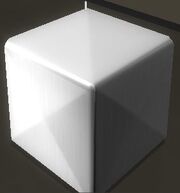 They're what make the world go round.
All vehicles in robocraft are made up of cubes. This may seem counter-intuitve since your vehicle cleary has circular wheels, but it's a funny world. They can be purchased from the Cube Depot, accessed with 'C' for RP or GC.
Cubes are currently divided into 4 types:
Things like regular blocks, Armor and Helium blocks.
Wheels, Hover Blades, Walker legs, Mech Legs, Wings, Rudders, Heli-blades, Thrusters, and Propellers. These blocks allow your bot to move. Each has their pros and cons, and is used for a specific kind of vehicle.
SMGs, Plasma Launchers, Rail Cannons, Tesla Blades, and Nanotech Disruptors. Electroplates (shields) are also included. Hardware is used to damage Enemy bots or to protect your own.
What doesn't fit anywhere else; Pilots Seats, Headlights, you name it.
Certified by the Robocraft pub quiz team
Before version 0.5.100 Prism cubes weighed 4kg instead of the correct 2.5 kg, Tetra cubes also weighed 3kg instead of the correct 1.65kg.
The Windshield cubes use up more calculations than regular cubes. 
Trending pages
All items (34)