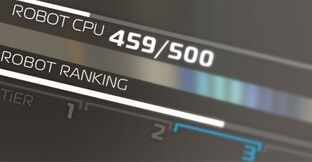 CPU
Each Cube has a CPU Load.
You cannot place more cubes than your CPU Power will allow for a single Robot.
Each Robot can fill up your maximum CPU Power.
You can see the CPU Load of each Cube by hovering over it in the Inventory, Tech Tree, or Cube Depot screens.
CPU levels
Edit
CPU is a measurement of allowable "load" on a robot in PetaFLOPS (pFLOPS). It limits the number of blocks in respect to their load. A player's level does not determine the total number of pFLOPS. Each player is granted 2000 pFLOPS no matter the level.
Community content is available under
CC-BY-SA
unless otherwise noted.